Reviews
Sometimes a slight drizzle turns into rain! Two back to back reviews of my book, 'A Fistful of Sky', got published recently. I thank Kalyanee Rajan & Rachna Joshi for their kindness in reviewing it in Lapis Lazuli. And Dr. Rumki Basu for penning an indepth review in the journal of the Poetry Society (India).
Click to read review by Dr. Rumki Basu
Click to read review by Kalyanee Rajan and Rachna Joshi
Book review by Dr Lakshmi Kannan in literary E- journal, Muse India.
Click to read
The following reviews are on The Temple, an ebook by Sanjula Sharma
My favourite parts are the beginning (1-3) and the end (47-50), so I can go back to them so easily on your website. Also touched immensely by 38-so true! "Gitanjli" took Tagore to the world, may "Temple" do the same for the new voice from the same soil.
- Dr Ashu Bhalla, Addl Prof, AIIMS
The book is absolutely spectacular!!
- Dr Kabir Chuttani, Consultant Cardiologist, Boston
The verse really touched me. I really liked how simple yet powerful your thoughts are.
I also loved the charcoal sketches you included. While reading each verse, I was visualizing a place I saw many years ago during a hike in Pachmadi... I didn't even realize I had the memory stored in my head!
- Vasanta, Instructional Designer
Great, Sanjula. Looks really good.
- Rachna Joshi, Sr Asst. Editor, IIC Quarterly
Thank you for sharing your e-book, THE TEMPLE.
I have gone through The Temple and have sincerely enjoyed it. As the saying goes, good poetry like good food, should be relished and appreciated at leisure. You appear to have put in a fair amount of visualization, time and effort in putting the verses in place for them to have come out so. I am sure poetry of such fine quality shall attract the attention of a good publisher...
- Poet Ravinder
I love the theme and images!!! Very profound, to say the least. I am not going to read them all at once, so that I have time to absorb the meaning of each verse.
- Kezang Penzor, Writer from Bhutan
This is very, very beautiful. Loved its premise, its texture, its tone...
- Nawaid Anjum, ASIAN AGE
'The Temple', your e-Book is a great work! I had also read 'Short Stories' and 'Poems' written by you earlier which were also real intellectual feeds like this latest work of yours.
- Col Rajeev Tewari
Congratulations.... It was really a delight to read your first E-book, The Temple...I experienced sheer joy by looking at the apt. illustrations... I never knew that you are such a fine artist too.
- Mandira Ghosh, poet/writer
I have scheduled your poem 'The Temple' for one of our forthcoming issues.
- Dr. A.J. Thomas, Guest Editor, Indian Literature, Sahitya Akademi
I enjoyed reading 'The Temple' and I think the resolution at the end very subtle. I also like your charcoal drawings very much. In fact the whole presentation is very pleasing to the eye. "The Temple" reminded me of Tagore.
- Antony Johae, poet, Retd Professor from Kuwait University
15 Nov 2016: "Poetry for Peace (Why War?)" on Nov 10, 2016
The Poetry Society (India) in collaboration with the India International Centre (IIC) organised a reading of poems on "Poetry for Peace (Why War?)" on Thursday, Nov 10, 2016 at IIC Conference Room 1, New Delhi. The event saw a stirring line-up of eminent poets reading famous and self-composed poems on the burning topic, keeping in view the current volatile atmosphere of the world at large, and indeed teeming with the possibility of a third world war. The program was opened by Mandira Ghosh, poet and the current Treasurer of The Poetry Society (India), who provided a brief background of the event before handing over the proceedings to the chair, renowned poet Keki N Daruwalla. Daruwalla shared his remarkable experience of reading poetry at the International Poetry Festival in Medellin, Colombia held earlier this year from 18th to 25th June.
Savita Singh, before reading her poems in Hindi, stressed on the poets' need to be "naive" in order to write about peace. Her nuanced and elegantly phrased poems "Aakanksha ka makaan," "Naya Andhera" and "Anidra Mein" set the evening rolling. The next to read was Bhaskar Ghose who shared poems of G M Hopkins ("Peace") and Rabindranath Tagore ("Question"). The next to read was Kavita Singhal, whose poem with the refrain "Shantih, Shantih, Shantih" was well appreciated. Gagan Gill shared two very powerful poems by Turkish poet Nazim Hikmet titled "Optimistic Man" and "On Living." Rukmini Bhaya Nair shared her poems primarily written for children, including the thumping rap poem "Agitprop Verses - The Fundamentals" which electrified the atmosphere. Bhaskar Ghose shared Rilke's famous "Buddha in Glory," and journalist and poet Sanjula Sharma shared her poems beginning with an impressive Haiku, and ending with a soulful reading of her "A Little Piece of Peace." The readings were capped by Daruwalla's own "A Poem for Peace," "Naropa's Wife" and "Jerusalem" recited in his slow, mellifluous voice, which aptly brought out the various facets of the exigent theme of peace (and war!), while the evening reverberated with the ever-mystifying power of poetry.
- Kalyanee Rajan, Assistant Professor (English), Shaheed Bhagat Singh Evening College, University of Delhi
For Rhyme or Reason by Sanjula Sharma
Love, metaphysics and motherhood form the threads that tie together Sanjula Sharma's book,
'For Rhyme or Reason'
. Sanjula Sharma is a journalist by profession , who has a post graduate degree in English Literature from Jadavpur University, Kolkata. She spent her formative years living and studying in the beautiful hill-station of Darjeeling. She published her first book of poems in 1992. Her collection of short stories 'The Cameo Sheaves' (2002) portray vivid sketches of urban life that are imaginative, humane and contemporary.
As the poet says:
"It was a breakthrough in love
In the passion, the lust, the width of it
The baseline and its zenith
In the height of its treacherous peaks,
The depth of its deep, deep seas
Its many sunlit valleys and dark caverns
The lows of Hell, the bliss of Heave'n.'

The poems are permeated with the glow of love, the savoring of moments spent together, and remembrance of happy days. As she says:
'It wasn't you I was searching for
When I first began to look for love.
It was me-a fractured bit of poetry.'

Chockful of similes and metaphors and allusions and denotations, she says:
'If only
I could be the moon
That guides you from the sky
Beaming dreams in rainbow dyes.'

Metaphysics also runs through the poems reminding one of the hymn learnt in childhood:
'Make me a channel of your peace
Where there is darkness let me sow your love
Where there is injury your pardon Lord
And where there's not true faith in you.'

As she herself remarks:
'Give me one more day my Lord
To remember you and all I've got,
To laugh without fear or sorrow
Pray joyously for a perfect tomorrow.'

Motherhood is another theme that runs through the poems:
"I am a woman
Secret seed of life nestles within
My being, now fulfilled and alive
With dreams of a happy tomorrow.'

She talks of the fulfillment of motherhood and celebrates it.
Written in both rhyme and free verse, it contains quatrains, haikus and other forms of poetry that contain a vivid tapestry of thought and emotion.
The aim of the book seems to be to work oneself out of pain or hurt. As she says:
'Right in the centre of my heart
A brutal stab, sudden and hard
It's the memory of you once again
The leaves me crying in pain.'

She says that she was left to pick up life again, and gain the strength to laugh again. It is an honest and courageous statement of deep personal feelings. The spiritual dimension provides succor and solace to the pained spirit. Love is the outcome of all the internal churning, and motherhood provides a soothing balm to the spirit. Sanjula's journey charts a course that moves from despair to joy:
'Sunlight will stream in, peace cast a glow
The Self within me a beacon of hope.'

- Rachna Joshi, Delhi based poet
Poetry magazine gathers poets to enthrall discerning Delhi audience
Click to read
An Ode To Tagore
Click to read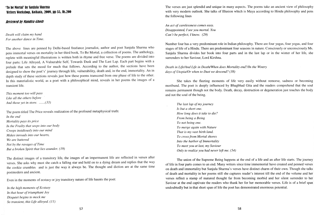 The Enchanting Verses Literary Review
Best of Enchanting Verses 2012
Review by Mandira Ghosh
Click to read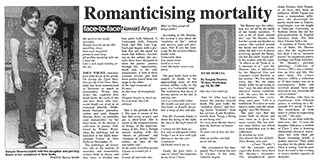 Romanticising mortality
Click to read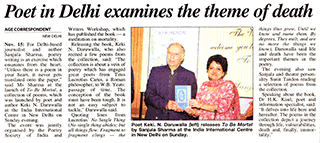 Poet in Delhi examines the theme of Death
| The Asian Age
November 16, 2009
Click to read
Sharma pens fiction
| INDOlink
Click to read