Happy Minds
A HAPPY MIND LEADS TO A HAPPY LIFE!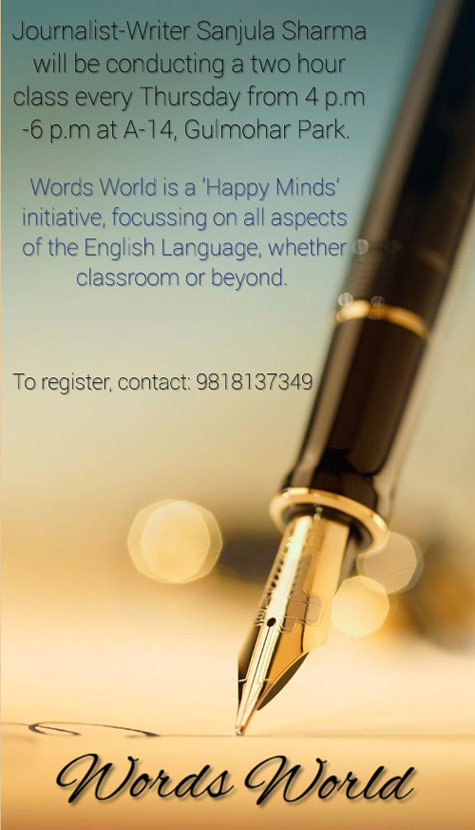 HAPPY MINDS
is the name given to creative workshops designed to enhance artistic and creative skills in children.
The
concept
of the workshop is based on the simple philosophy that a happy mind leads to a happy life. A happy mind is also a busy one! One that engages itself with artistic or other activities that are meaningful, energy enhancing, filled with creativity and close to the heart. Art, writing, yoga, dance, music, drama, reading etc are some of these activities that fit the bill. Both reading and writing are major hobbies that keep the mind happily engaged. In a sense they complement each other for the more you read, the better you write! In the present era of Internet and major social networking sites the beautiful habit of holding a book or a pen in the hands is getting lost. Most of us, especially children, would rather play with the 'mouse'! That is why workshops that inculcate writing and artistic skills are becoming the pressing need of the hour. That is precisely the reason why
HAPPY MINDS
has taken shape...
The aim of
HAPPY MINDS
is to focus on the talent and creativity of the child. Its goal is to make the child understand that a happy, well engaged mind leads to happiness. Every child has a special ability, passion or interest. This needs to be nurtured especially in the current competitive scenario that focuses so heavily on academics and performance.
HAPPY MINDS
conducts workshops that are valuable in nurturing/enhancing these creative skills in children as well as fine tuning them. Held in an informal atmosphere they are designed to be non didactic, interactive and child friendly. They work as power houses of inspiration and encouragement and are a valuable beacon of guidance.
The
first series of workshops
that
HAPPY MINDS
is conducting in Delhi is focused on enhancing creative writing skills in children. The emphasis here is on inculcating a love of both reading and creative writingin English. Language skills will improve and an understanding of good literature (fiction and poetry) will be inculcated. Various genres will be discussed and good books and reputed authors (International & Indian) showcased. Children will be taught good techniques in writing where valuable tips for better expression, usage of words, style etc will be given. The child will not only learn to express himself better but also to do so in an imaginative and creative fashion. He/ she will also be able to cope better with school/ college assignments, debates, seminars, college magazines etc. Hands on writing will be done and helpful handouts will be given. The focus will be on encouraging participants to read more, read better books, move away from excessive Net time and maintain a diary / travel book / creative writing register. The children will be given a book to read and this will be discussed on the last day of the workshop. Good writing should have both style and substance and this is what the workshop aims at developing in the participants. After all, the one who expresses himself best is the one who goes happily ahead on the road to creativity...
FORMAT OF THE WORKSHOP
The workshop will be spread over five days (Mon-Fri) for an hour each day. Alternately, it can be held over a single weekend- Sat & Sun for a duration of five hours. The workshop will be for children (12 years & above). It will be conducted by
Ms SANJULA SHARMA
, an experienced journalist/ writer based in Delhi.
FUTURE WORKSHOPS
HAPPY MINDS
plans on holding similar workshops all through the year. These will be on art, music, yoga, drama, dance and creative writing.
Contact Sanjula Sharma at
sanjula3@yahoo.co.in
Books by SANJULA SHARMA available at:
Midland Book Shop, Aurobindo Place, Hauz Khas or at A-14, Gulmohar Park, New Delhi 110 049
THE CAMEO SHEAVES- Rs 195
TO BE MORTAL - Rs 200